Get 10% off the Best Pest Control in Tuckahoe
Pest Control in Tuckahoe
Our pest control exterminators in Tuckahoe have extensive, up-to-date training on the latest pest control methods so they can handle your bug problem quickly and efficiently. No matter how bad the infestation is, our experts can handle it. With our Tuckahoe pest control exterminators on the job, you can have the peace of mind of knowing the best of the best have it handled.
Save 10% Instantly With Suburban
New customers are invited to take 10% off their initial service when signing up for a yearly program. Want other ways to save? Check out our Tuckahoe pest control coupons for other special offers, like saving 5% when you prepay for the entire year!
Your Satisfaction is 100% Guaranteed
Suburban Pest Control is a family-owned and operated company that has been providing exceptional pest control in Tuckahoe since 1974. We pride ourselves on our personalized customer service that will make you feel like part of the Suburban family. We promise to treat your home like we would treat our own homes, and we won't be happy unless you are. That is why we offer a 100% satisfaction guarantee. What's more, if you prepay for a year of service, we will give you a 5% discount!
Image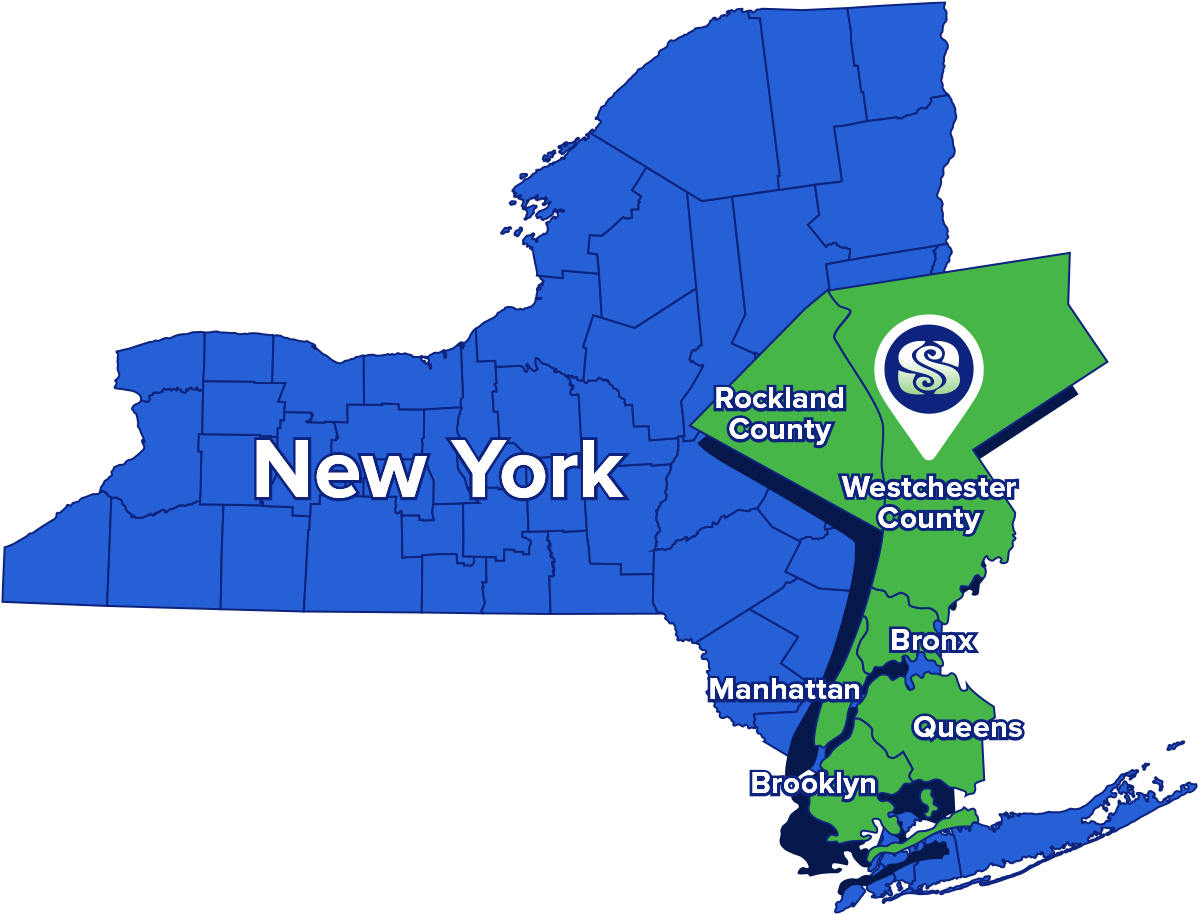 Get Rid of Your Pests Today
Here at Suburban Pest Control, we have created a comprehensive pest control program that strategically targets entry and exit points for pests, as well as areas that attract them. When you partner with us for your pest control in Tuckahoe, we'll eradicate the existing infestation in your home and make sure future ones don't occur!  We do this through recurring treatments and inspections every quarter utilizing the most effective products available in the industry. When you choose us for Tuckahoe pest control, you can expect:
An in-depth pest control consultation and inspection from one of our expert technicians.
A customized pest control treatment plan that targets entry points, breeding grounds, and pest hiding spots.
Four seasonal applications designed to proactively treat your property before pests become an issue.
Free retreatments and service calls if pests persist in between scheduled quarterly treatments.
Structural repairs and the closing and sealing of access points for an additional fee if needed.
And more!
Get Protection Against The Most Common Pests
Here in Tuckahoe, pests are a year-round threat. Just like humans, pests are seeking warmth, shelter, and food, and your home is the place they're looking to crash -- don't let them get too comfortable! With our pest control in Tuckahoe, we'll protect your home against a variety of the most common pests in the area, including:
Rodents
Roaches
Ants
Bees
Wasps
Stink Bugs
Spiders
And more!
Rodent Control in Tuckahoe
Rodents are quick to make themselves comfortable once inside your home. After finding a way in, squeezing through openings as small as a dime, rats and mice get right to work eating your food, chewing on furniture and wires, and reproducing. Their presence puts you and your family at risk of diseases like Salmonella and Hantavirus and threatens your home with structural damage. Luckily, with Suburban Pest Control, you can get rid of mice and rats as quickly as they appeared. Get back your peace of mind with our quality rodent control in Tuckahoe!
Relief from Rodents that Lasts!
At Suburban Pest Control, your safety is our priority. We know all about the dangers of rodents, and we want to help you get rid of them as quickly and effectively as possible. Our comprehensive mouse control includes the following services:
A thorough rodent inspection: A professional rat exterminator will provide a detailed inspection of your property in order to create a rodent treatment program customized to your home and needs.
Baiting and trapping existing infestations: Our treatment program begins with rodent removal through strategic baiting and trapping. A rat expert will target the main points of infestation with highly effective bait and mechanical traps and will follow-up one week later to adjust placement and treatment plans as necessary.
Treatment with BurrowRx: With the use of the BurrowRx Rodent Control Device, we can eliminate burrowing rodents without the use of harmful chemicals.
Expert advice on how to keep rodents away: Your exterminator will provide not only preventative treatments, but also expert tips and tricks on how to keep rodents away.  
Termite Treatment in Tuckahoe
Termites are a hidden threat to your home. Causing billions of dollars worth of damages every year, these pests can leave your home destroyed. Unfortunately, most home insurance policies don't cover termite damage— leaving you on the hook for the bill. When you choose our preventative termite treatment in Tuckahoe, you can rest assured your home is protected year-round.  
Fast, Innovative and Efficient Solutions
If you've currently got a termite infestation, we're here to help. We offer Sentricon® Above Ground Bait Stations to keep termites away from your home while eliminating the colony— queen and all! 
In addition to Sentricon® Above Ground Bait Stations, our termite treatment in Tuckahoe includes:
An initial inspection of your home to determine if you're facing a termite infestation.
Preventative treatments to protect your home long-term.
Innovative techniques and treatments that are family-friendly. 
Ant Control in Tuckahoe
Ants might have a place in the world, but that doesn't mean you want them in your home! Once ants find their way into your home, they can be destructive to your food, property, and the health of you and your loved ones. 
Our ant control in Tuckahoe will safely eliminate:
Odorous house ants
Pharaoh ants
Carpenter ants
Pavement ants
No matter where they're hiding— bathrooms, pantries, floorboards, and anywhere in between— Suburban Pest Control will eliminate your ant infestation! 
TALK TO OUR ANT CONTROL EXPERTS TODAY
Recurring Services for Long-Lasting Relief
The best way to keep ants out of your home is through recurring treatments. When you partner with Suburban Pest Control for our ant control in Tuckahoe, we will:
Inspect your home to search for any signs of any activity and to determine what species of ants you're dealing with. 
Create a customized treatment plan that will effectively eliminate your ant infestation.
Combine baits and non-repellent products as needed to eliminate ants quickly and efficiently.
Give you back your peace of mind, guaranteed! 
Bed Bug Treatment in Tuckahoe
Few things are as alarming as waking up to small, red bites all over your upper body or finding the tiny discarded skins of insects in your bedding and furniture. Bed bug infestations may be a common experience among homeowners everywhere, but that doesn't make it any less stressful. Luckily, you're not alone when it comes to fighting these damaging pests. The experts at Suburban Pest Control are ready with the solutions you need with our bed bug treatment in Tuckahoe. 
Our No-Fail Bed Bug Removal Process
Since 1974 our experience in the pest control industry and our cutting-edge treatments, means bed bugs don't stand a chance. Our strategy for bed bug removal has been shown to provide total elimination time and time again and includes the following proven solutions:
Vapor steam treatments: While chemical treatments often leave behind eggs, our steam treatments have been shown to eliminate bed bugs in all stages of life and in all the cracks and crevices of your home, without the use of chemicals. This treatment is both eco-friendly and highly efficient.
A thorough HEPA vacuum system: With the use of specialized vacuums, our expert bed bug exterminators are able to accurately target infested areas, removing both live and dead bugs, dirt, shed skins, and other debris that may contribute to the contamination and infestation of your home.
Top-of-the-line bed bug treatments: To ensure total eradication of your problem, we pair our vapor treatments with the application of top-quality desiccants 
Encapsulation: We encourage our customers to take preventative action against future infestation by paying the extra fee for the installment of post-treatment, bed-bug resistant mattress covers, shown to save homeowners hundreds of dollars in the long run.
T.A.P Insulation in Tuckahoe
Thermal Acoustical Pest Control (T.A.P) Insulation is a method of insulating that utilizes loose-fill technologies to cover every nook and cranny within your attic. Give your home the ultimate attic restoration with this insulation! Installing attic insulation can be difficult to take on by yourself, but fortunately Suburban will send out one of our professional technicians to install the insulation for you! 
Benefits to T.A.P insulation include:
Pest protection 
Lower energy bills
Protection against mold and mildew
Fire resistant 
Ultimate Pest Protection
Our attic insulation services have many benefits, one of which is protection against pests! T.A.P insulation can provide protection against:
Silverfish
Roaches
Ants 
Termites
Earwigs 
Booklice 
And many more!
Our Guarantee
Should pests persist in between scheduled treatments, simply let us know and we'll re-service your home for no additional cost to you. That's our guarantee to you!
Image