Get 10% off the Best Pest Control in Larchmont
Pest Control in Larchmont
With the beautiful homes, parks, and recreational areas in Larchmont, the last thing you want to spend your time on is dealing with a pest infestation. No matter the pest you're dealing with, the experts at Suburban Pest Control can solve your pest problems fast so you can get back to doing the things you enjoy most. We've been providing exceptional pest control in Larchmont since 1974, and are happy to help protect your home against a variety of different pests for the long haul.
Save 10% Instantly With Suburban
New customers are invited to take 10% off their initial service when signing up for a yearly program. Want other ways to save? Check out our Larchmont pest control coupons for other special offers, like saving 5% when you prepay for the entire year!
Image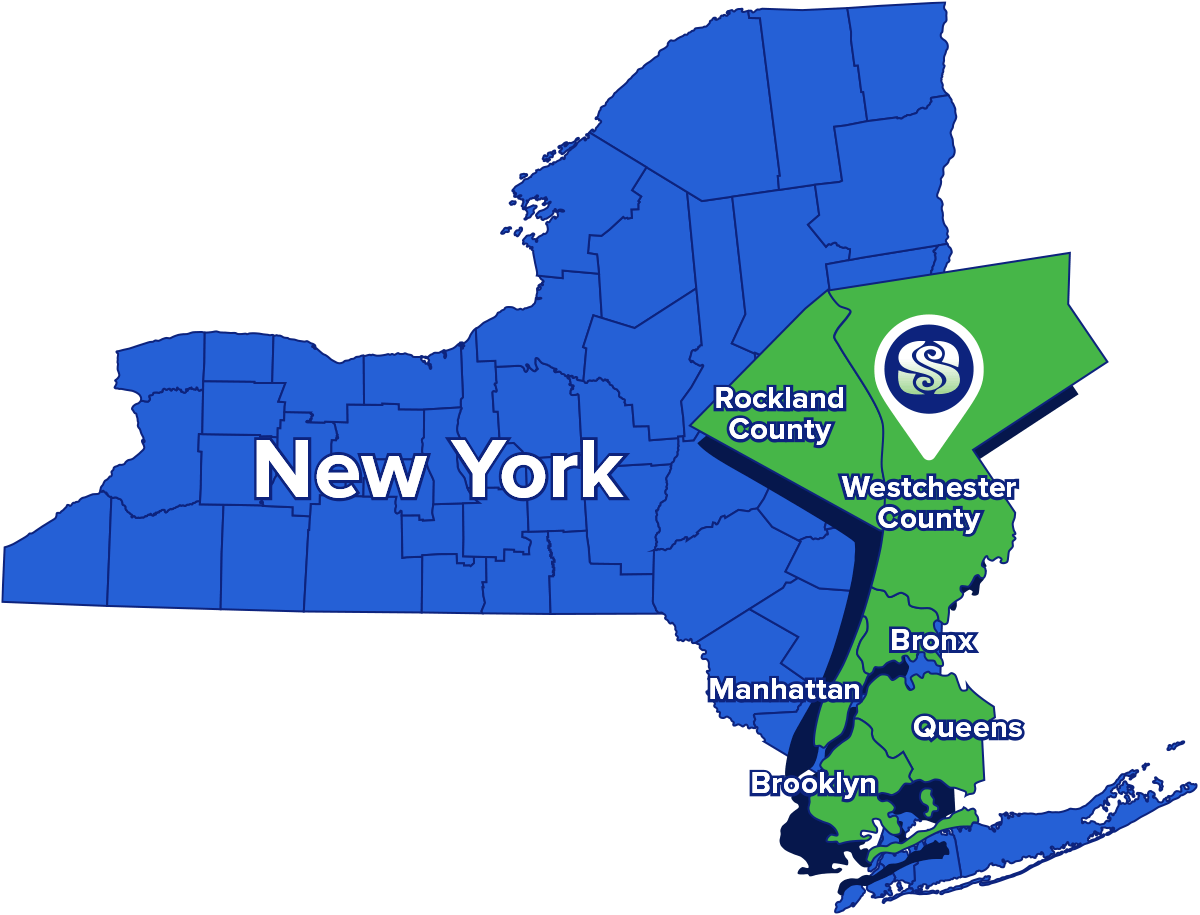 Exterminators Your Family Can Trust
Due to the climate and environmental factors, bug problems are a year-round problem in Larchmont. Home remedies and DIY treatments are often unsuccessful at keeping unwanted pests out because they don't usually get to the root of the problem. Here at Suburban Pest Control, we recommend recurring pest control treatments and inspections that continuously target the areas pests live and breed, so you don't have to deal with them coming back. Through ongoing treatments and care from our pest control exterminators in Larchmont, you can enjoy protection against a variety of common household bugs, including:
Rodents
Ants
Roaches
Spiders
Bees
Wasps
Stink Bugs
And More!
Our pest control in Larchmont is there when you need it, so you can get back to what matters most.
24/7 Pest Protection to Keep Your Family Safe
If you're tired of dealing with pest issues throughout the year, look no further than our trusted Pest Control Protection program, designed to keep your home pest-free during all four seasons. Our goal is to provide best-in-class pest control in Larchmont by:
Starting with an in-depth consultation and inspection to determine the extent of your infestation, as well as where pests are entering your home
Create and implement a customized treatment plan that will eliminate the existing infestation and clear your home of pests
Provide ongoing seasonal treatments to proactively keep your home pest-free throughout the entire year
Ensure access points are closed and necessary structural repairs are taken care of, guaranteeing your home's continuous protection, for an additional fee
In addition to protecting your family every season, we also have a team of Larchmont exterminators ready to handle even the biggest pest problems 24/7! 
Pest Protection You're Sure to Love— Guaranteed
Here at Suburban Pest Control, we stand behind our treatments, so every service comes with a 100% guarantee. We promise to keep you and your home safe while putting a smile on your face by sending the most friendly and professional pest control experts that Larchmont has to offer to your home. If there's ever a problem or you're unsatisfied with your service, let us know and we will make it right at no additional cost to you.
As Larchmont exterminators that deal with bugs every single day, we know how terrifying it can be to have pests invade your home. With our satisfaction guarantee, you will have peace of mind knowing there is a team of pest control experts dedicated to protecting your home, so you don't have to think twice about it.
Ant Control in Larchmont
Ants have a way of creeping into houses and infesting them no matter how clean and tidy you keep your home. DIY ant control like sprays and ant bait can be helpful, but these kinds of treatments only last for a certain amount of time before they come back. Fortunately, since 1974 we have decades of providing ant control in Larchmont, Suburban Pest Control understands ants better than just about anybody. Our team of ant exterminators will provide you with fast relief from our community's most common ants, such as carpenter ants, pharaoh ants, odorous house ants, and more!
Our ant control in Larchmont includes:
An inspection of your home for entry points.
Treatment plans tailored to your home's specific infestation.
Recurring services to keep your home ant-free all year long.
Various ant control methods, such as non-repellants and baits.
A satisfaction guarantee!
Bed Bug Control in Larchmont
It's hard to turn out the lights and sleep tight when you know you'll have bugs for bedfellows. Unfortunately, bed bugs are a common and annoying pest that will leave you with musty-smelling linens, bloodstained sheets, and awful, itchy bites all over your body. If you're ready to say goodbye to bed bugs once and for all, look no further than the professional bed bug exterminators over at Suburban Pest Control. As a family-owned and operated company, we understand the importance of protecting the home and the ones you love from the stress of a bed bug infestation. Our bed bug treatment in Larchmont uses a combination of vacuum, steam, and spray treatments to eliminate bed bugs entirely—no mess, fuss, or frustration. When you choose us for bed bug control, you'll get the following:
A thorough inspection to identify areas of bed bug activity.
Removal of bed bugs from hard-to-reach areas with a HEPA vacuum.
Steam treatments to eliminate bed bug eggs and any adults missed in the initial vacuum treatment.
High-quality spray treatments and desiccants to keep bed bugs from returning.
Optional mattress covers for future protection.
24/7 service hours, guaranteed protection, bed bug exterminators with experience since 1974, and more!
Termite Control in Larchmont
Sick and tired of letting termites eat you out of house and home? Get ready to set that worry aside when you call up the professionals at Suburban Pest Control. Since 1974, we've been providing top-of-the-line termite treatment in Larchmont that is guaranteed to eliminate termite colonies completely. As a local company, we know New York's termites and the danger they pose to the financial stability and peace of mind of our community. In fact, these pests cost homeowners around the country over $5 billion in damages annually! There's no denying that investing in termite control is the smart choice for any home.
When you choose us for termite treatment in Larchmont, you will receive the following:
A thorough inspection of your home's exterior, crawl space, attic, and any other areas of potential termite activity.
High quality and highly effective termite treatments with Sentricon® Above Ground Bait Stations, which are designed to eliminate your colony quickly and safely. 
Preventative treatments to keep termites gone—long-term!
Our satisfaction guarantee and 24/7 availability for questions and assistance.
And more!
Rodent Control in Larchmont
If squeaking and scuttling are keeping you up at night, you're likely dealing with rodents. These frustrating invaders will lay waste to pantries and attics, and they bring with them hantavirus, salmonella, and countless other diseases that can put you and the ones you love at risk. Worse, they reproduce rapidly, meaning that leaving an infestation to fester can lead to your home being overtaken by rodents. For fast and effective relief from rats and mice, call up the professionals at Suburban Pest Control! With experience in rodent control in Larchmont since 1974, we can help you solve your rodent problem before you know it.
When you partner with us, you can expect the following:
A careful inspection to assess rodent entry points and population size.
Bait and trapping to eliminate your infestation.
Consultation from our trained and friendly rodent exterminators on how to make the most of your treatment.
Exclusion work to keep rodents from returning.
Our satisfaction guarantee and the chance to save 10% on your first service!
T.A.P. Insulation in Larchmont
Are you looking to make your Larchmont home more energy-efficient and better protected from pests? Thermal Acoustical Pest Control (T.A.P.) Insulation will allow you to do just that and more! Your attic may be struggling to keep your home cool in the summer and warm in the winter with its current insulation. T.A.P. insulation is the ultimate tool to restore your attic, utilizing environmentally responsible loose fill to cover any nooks and crannies that your existing insulation missed. 
Benefits of our attic insulation services in Larchmont include:
Sound-dampening properties 
Lower energy bills 
Fire-resistant properties 
Protection against mold and mildew 
Pest protection 
Protection Against Pests
Many different types of pests may take advantage of your traditional attic insulation, slipping through the cracks and making their way into your home. Luckily, T.A.P. insulation is treated with a borate solution to give it pesticide-like properties to protect your attic and home against pests.
T.A.P. insulation helps guard your home against:
Termites
Silverfish 
Roaches 
Ants
Centipedes 
Sowbugs
And more!
Our Guarantee
Should pests persist in between scheduled treatments, simply let us know and we'll re-service your home for no additional cost to you. That's our guarantee to you!
Image