Are pests uninvited guests in your New York City home?
What kind of problem are you having? Select all that apply.
Pest Control in New York City
With over 40 years of experience, we understand how stressful it can be to face a pest infestation in your home. These creepy critters can make you feel paranoid in your own space by surprising you when you least expect it. We know everyone in NYC is busy and that is why we offer fast and effective services so you don't have to spend another minute thinking about pests in your home.
Protect Your Family with the Best Pest Control Services
Your family is the most important thing to you and you want to keep them from being exposed to the dangers and diseases that pests can bring into your home. When you partner with Suburban Pest Control, you can feel safe knowing you've chosen the best pest control in New York City. In fact, we've been serving the Big Apple since 1974, so we know exactly what issues your home may be facing at any time of year. Our year-round pest control will make sure your family never has to worry about issues caused by common pests like cockroaches, ants, wasps, stink bugs, and more. 
Image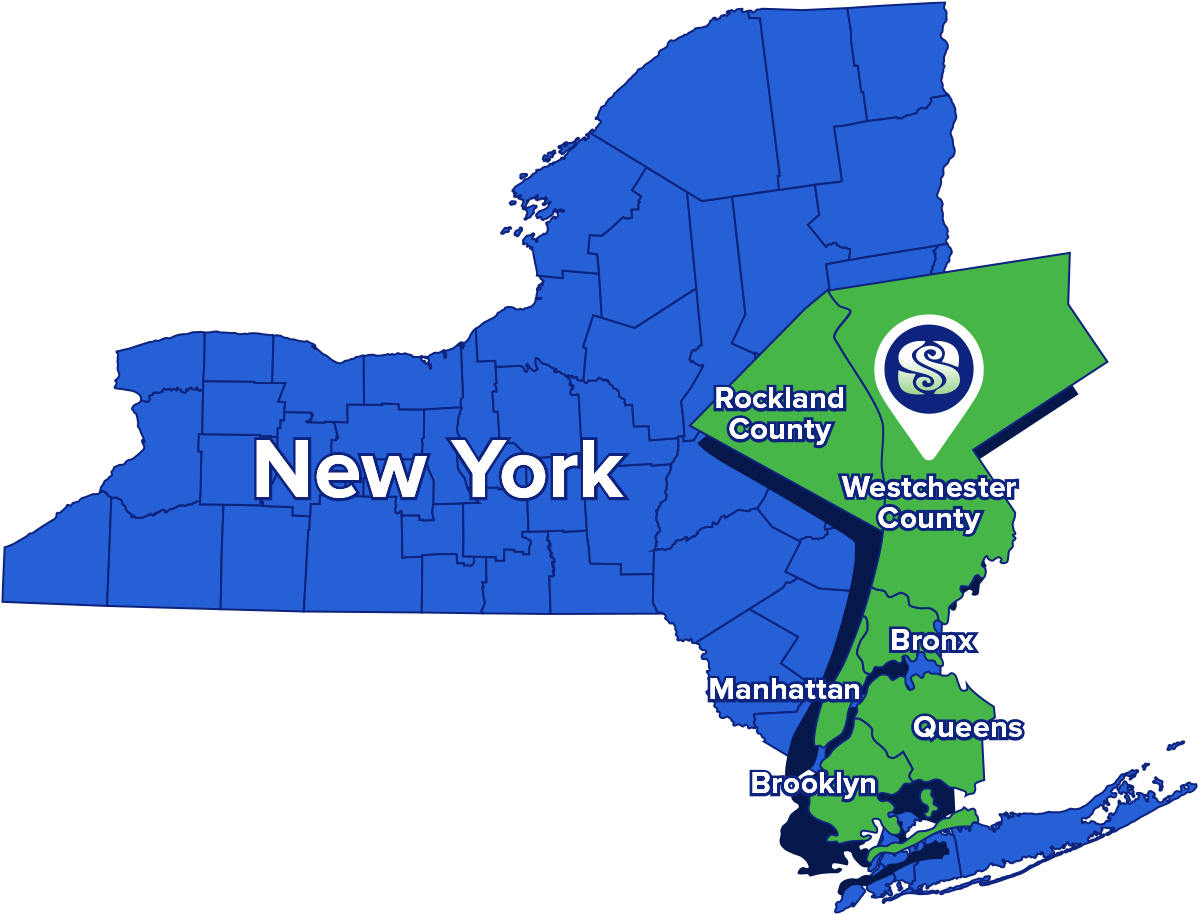 Our Tried-and-True System to Keep Your Family Safe
Our pest control in New York City includes:
A detailed inspection and consultation to determine what your pest control needs are.
A custom-crafted treatment plan that works for you.
The elimination of all pests present in your home.
Four seasonal visits to prevent future pest infestations with proactive treatments year-round. 
Structural repairs to eliminate vulnerable openings that may allow pests to infiltrate your space.
With over 40 years of experience, our New York City exterminators have pest control down pat. You can trust that our team will give you the protection your family needs. 
We're Always On Call For You
Did you know Suburban Pest Control offers 24/7 pest protection? When you choose us for your New York City pest control, you'll have our team of expert exterminators on call 24/7. We can solve any pest problem— big or small—right when you need us. Our New York City exterminators are highly trained to eradicate pests from your home while providing exceptional customer care. We treat our customers like family and will take the time to explain all of our services so you know exactly what you are paying for.
You'll Be Happy With Our Services!
We not only have the best pest control in New York City, but we also have the best customer service. With over 40 years of experience in the pest control industry, our New York City exterminators are prepared to take care of your pest problem with a friendly face and professional attitude. Here at Suburban, it's simple— we aren't happy until you are. When you call, you can guarantee one of our trusted, friendly exterminators will provide you with top-notch care every time. 
Termite Treatments in New York City
Termites are a homeowners' worst nightmare, but with our termite treatments, you don't have to stress. If you think you might have a termite problem don't wait until the repairs bills start piling up. It is important to be proactive when it comes to these pests. Our termite control experts in New York City can identify and eliminate termites quickly and effectively with top-of-the-line treatments. It is never too early to protect your home from termites. 
Don't Leave Your Home Vulnerable to Termites
New York City is home to some of the most amazing real estate in the world. Don't let termites reduce the value of your home, keep your space in pristine condition with termite control in New York City. Our experienced exterminators will:
Perform a top to bottom inspection of your home and crawl space to identify any areas vulnerable to termites. 
Once we have gathered this information about your infestation, we will create a personalized treatment plan.
We will then eliminate all termites from your home utilizing a Sentricon® Always Active termite system.
Finally, we will recommend preventative strategies to ensure termites are gone.
The Sentricon Always Active termite systems eliminate termites quickly and effectively through baiting strategies. This treatment is highly effective and one of the most aggressive on the market. Our New York City exterminators are experts at utilizing this tool and will keep your family and home protected from termites. Be sure that termites in your home are a thing of the past!
Bed Bug Treatments in New York City
Bed bugs are one of the most frustrating pests to deal with. Not only is it alarming to have an insect in your home but these also leave painful and itchy bites in their wake. When it comes to a bed bug infestation don't take any chances, call a professional. Our bed bug control in New York City utilizes the best and most effective treatments available on the market so you can rest easy.
Give Your Family Their Best Night's Sleep
Our New York City bed bug experts can handle an infestation of any size with our various treatments including steam, thermal, and spray solutions. Our HEPA vacuuming system is designed to physically remove up to 99.7% of pests from mattresses, box springs, and cracks or crevices where insects may be hiding.
In addition, steam vapor is another powerful option that can completely eradicate bed bugs and their eggs from your home. We also offer spray treatments as we aim to be as thorough as possible when it comes to protecting your home. We can utilize any combination of these treatments to meet your needs.
If your bed bug situation is particularly severe we even offer mattress encapsulation as well as pack-up treatment services to ensure your home will be bedbug-free!
Rodent Control in New York City
Nobody wants to deal with rodents in their home, and with us, you don't have to! Our rodent control experts in New York City know how to eliminate rodents from your home in no time so you can get back to focusing on the things that matter. 
Don't Let Rodents Cause Your Family Harm
Rodents may seem harmless but they are more threatening than you might realize. These critters often carry dangerous diseases such as Salmonellosis, Plague Leptospirosis, Hantavirus, and Rickettsialpox. Additionally, they can cause costly damage to your home by chewing through wires and other interior materials. Other dangers of rodents include:
Contamination of food supplies for both people and pets
Exposure to fleas and other ectoparasites brought into your home by rodents
Fire hazards caused by rodents gnawing on building interiors and wiring
Our rodent control in New York City begins with an in-depth inspection of your space to determine the extent of your infestation and to identify any vulnerable points in your home. Following this inspection, our experienced exterminators will eliminate rodents from your home by utilizing baiting and trapping strategies. Once your home is rodent free we will offer recommendations on how to keep it that way in the future!
Our Guarantee
Should pests persist in between scheduled treatments, simply let us know and we'll re-service your home for no additional cost to you. That's our guarantee to you!
Image