Get 10% off the Best Pest Control in Queens
Pest Control in Queens
Here in Queens, pest invasions are all too common. However, Suburban Pest Control has been providing the most effective pest control in Queens since 1974. Throughout the years, we have come experts at eliminating pests such as:
Rodents
Roaches
Ants
Bees
Wasps
Stink Bugs
When you partner with Suburban Pest Control, you are teaming up with the most-trusted pest control company in Queens. We are a locally-owned family business that puts your protection above everything else. Whether bugs are invading a home, a high-rise, or facility, we are your one-stop-shop for all your pest control needs in Queens!
Save 10% Instantly With Suburban
New customers are invited to take 10% off their initial service when signing up for a yearly program. Want other ways to save? Check out our Queens pest control coupons for other special offers, like saving 5% when you prepay for the entire year!
Image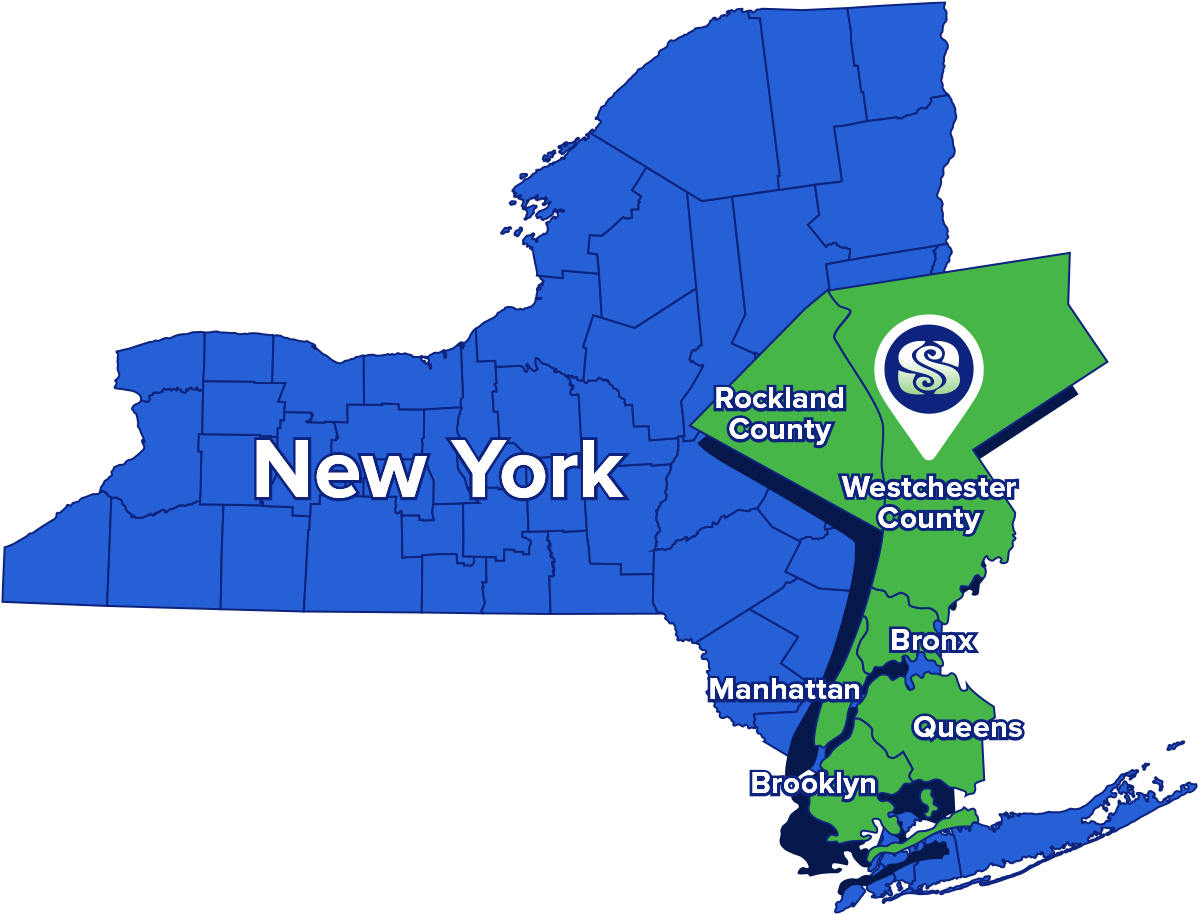 Custom, Seasonal Treatments to Meet Your Needs
Whether you're a homeowner or a tenant, a pest infestation is one of the hardest things to deal with on your own. However, our Queens pest treatments are specifically designed to eliminate the annoying bugs you deal with, plus prevent them in the future before they take over your home. 
Our pest control service in Queens typically includes: 
Thorough pest inspections and consultation by one of our highly-trained Queens exterminators.
A customized treatment plan designed to meet the needs of your loved ones and your home.
Four seasonal treatments tailored to protect your home in the most effective way possible
Structural repairs and the elimination of pest entry points for an additional fee.
And more!
A Bug-Free Home - Guaranteed!
Here at Suburban Pest Control, it's no secret that we put our customers first. After all, they gave us a 4.9-star rating! One way we keep our customers so happy is by offering a 100% satisfaction guarantee with all our pest control treatments in Queens. If you are unsatisfied with our service for any reason, we will return to your home and retreat for free! We always do whatever it takes to keep our customers happy!
Pest Protection Starts With a FREE Quote
If you're looking for affordable pest control performed by experienced exterminators with a passion for helping homeowners like you win the battle against bugs, call Suburban! Our Queens exterminators will give you a free quote so you can begin solving your pest problem fast— without breaking the bank! 
We even offer a 10% discount to senior citizens and one month free when you prepay for a full year of service. So, what are you waiting for?
Rodent Control in Queens
Is battling rodents wearing you down? Are you tired of sharing your space with rats, mice and other rodents? You don't have to continue living with rodents— get in touch with the Queens rodent control experts at Suburban Pest Control! Our local Queens exterminators have the expertise to implement elimination methods that will have you wondering why you didn't call sooner!
Protect Your Loved Ones
Rodents might not sting like bees, but they are quite dangerous to have in your home! Rodents are capable of spreading viruses such as Salmonellosis, Hantavirus, Rickettsialpox, and more. They can also contaminate food supplies for both your family and pets, expose your family to fleas and other parasites, and cause expensive damage to your home— even causing fires by chewing on wiring!
If you suspect you have a rodent problem, you need to trust the experienced professionals at Suburban Pest Control. Our Queens rodent control gets the job done, making sure you're safe, happy and have peace of mind!
Rodents Gone — Guaranteed!
Rodents can be tricky to get rid of, so don't rely on DIY methods to remove rodents from your home! The longer it takes, the bigger the problem gets. Call in the professionals fast! Our rodent control in Queens incorporates effective methods that will leave your home rodent-free!
When you join forces with our exterminators in Queens, you'll be provided with:
An inspection performed by an educated trusted technician to evaluate the severity of the infestation.
Baiting and mechanical trapping to effectively exterminate and eliminate the infestation.
Follow up visits one week later and beyond, depending on the severity of your infestation.
Recommendations on how to properly sanitize affected areas.
A rodent exclusion process around your property for lasting results.
With over 40 years of experience in the business, we trust our rodent control in Queens to provide you with the best results possible. We are so confident in our pest professionals that we offer a 100% satisfaction guarantee! If you're not satisfied with the results, let us know and we will make it right. Invest in Suburban Pest Control today for your Queens rodent control needs!
Termite Treatments in Queens
Termite damage is something everyone tries to avoid. But, with over $5 billion in damage caused yearly by termites, it's not always possible to avoid. Termites can slowly cause structural destruction to your home, leaving you stuck with an expensive repair bill. Don't let termites cause you problems, with preventative termite treatments in Queens by Suburban Pest Control, you can protect your home from termite damage.
Advanced Technology for Advanced Protection
After years of experience getting rid of termites, here at Suburban Pest Control, we know the best way to protect your investment. Our Queens termite treatments use Sentricon Above Ground Bait Stations, the best, most aggressive termite treatment that produces effective results— fast. The advanced technology in Sentricon allows it to eliminate the entire colony, even the queen.
This method allows us to take the bait to the termites, instead of waiting for them to find it. All of our Queens termite control includes:
Preventative treatments so termites can't make it to your home.
Yearly inspections so you know your home is termite-free for the long haul.
A termite-free home for your peace of mind.
EXPERIENCE POWERFUL TERMITE PROTECTION TODAY
Indicators of a Termite Infestation
The Subterranean termite is the most common type of termite that people deal with. This species of termite builds tunnels into your home to allow itself and the colony to get more easy access to your infrastructure.
A few common signs of a termite infestation include:
Sagging floors
Mud tubes
Damaged wood
Swollen ceilings
If you have spotted some of these signs or are still unsure if you are up against termites, call us! Our termite treatment in Queens includes a thorough inspection of your home where our termite exterminators will be able to determine the severity of the infestation and take steps to implement our Queens termite treatments.
Bed Bug Treatments in Queens
Bed bugs are the last pest you want disrupting your sleep. When we talk about them, we wrinkle our nose in disgusts and find it difficult to believe that a bed bug infestation can happen without anyone noticing.
Unfortunately, it can— and does— happen.
These infestations are quite common but difficult to eliminate. Many make the mistake of relying on DIY treatments, which can fail and drive bed bugs further into your home— making them harder to eliminate.
With the help of our technicians at Suburban Pest Control, you can live in a home completely bed-bug free! Our bed bug treatments in Queens using methods of spray, thermal, and steam treatments. Our Queens bed bug exterminators can treat all affected areas of your home including bed frames, mattresses, nightstands, closets, outlet covers, and more!
Effective Solutions That Last
Our Queens bed bug control process efficiently exterminates bed bugs while being completely safe for your home. When you entrust our bed bug professionals to take on the job, we incorporate powerful technology to provide you with the most effective solutions. Here's what our bed bug control in Queens will offer:
The HEPA vacuum system. This method allows our exterminators to remove 99.7% of the pests and their remnants.
The steam vapor system. With this system, our technicians will be able to destroy any eggs that have been deposited in the area. This helps avoid any possible return of bed bugs.
The application of treatments in the affected regions. We utilize desiccants, residual sprays, and more.
After treatment, we can take preventative measures to help avoid a future bed bug infestation from occurring.
Suburban Pest Control has been providing top-notch services for over 40 years now. With the experience and skill our technicians have, we guarantee your satisfaction. If you're dealing with red and itchy bed bug bites, contact us! We will ensure that your home becomes free of bed bugs and fast.
Our Guarantee
Should pests persist in between scheduled treatments, simply let us know and we'll re-service your home for no additional cost to you. That's our guarantee to you!
Image