Get 10% off the Best Pest Control in New Rochelle
Pest Control in New Rochelle
Household pests can take over your home in a matter of days, going from a minor inconvenience to a full-blown infestation almost overnight and leaving you feeling unsettled and uneasy. When that happens, you want someone who values quick and effective pest control solutions on your team to eliminate pests ASAP. 
At Suburban Pest Control, our New Rochelle pest control treatment programs are customized to get pests out and keep them out! If you need a team of New Rochelle exterminators to help you reclaim your home, give us a call today! 
Save 10% Instantly With Suburban
New customers are invited to take 10% off their initial service when signing up for a yearly program. Want other ways to save? Check out our New Rochelle pest control coupons for other special offers, like saving 5% when you prepay for the entire year!
Image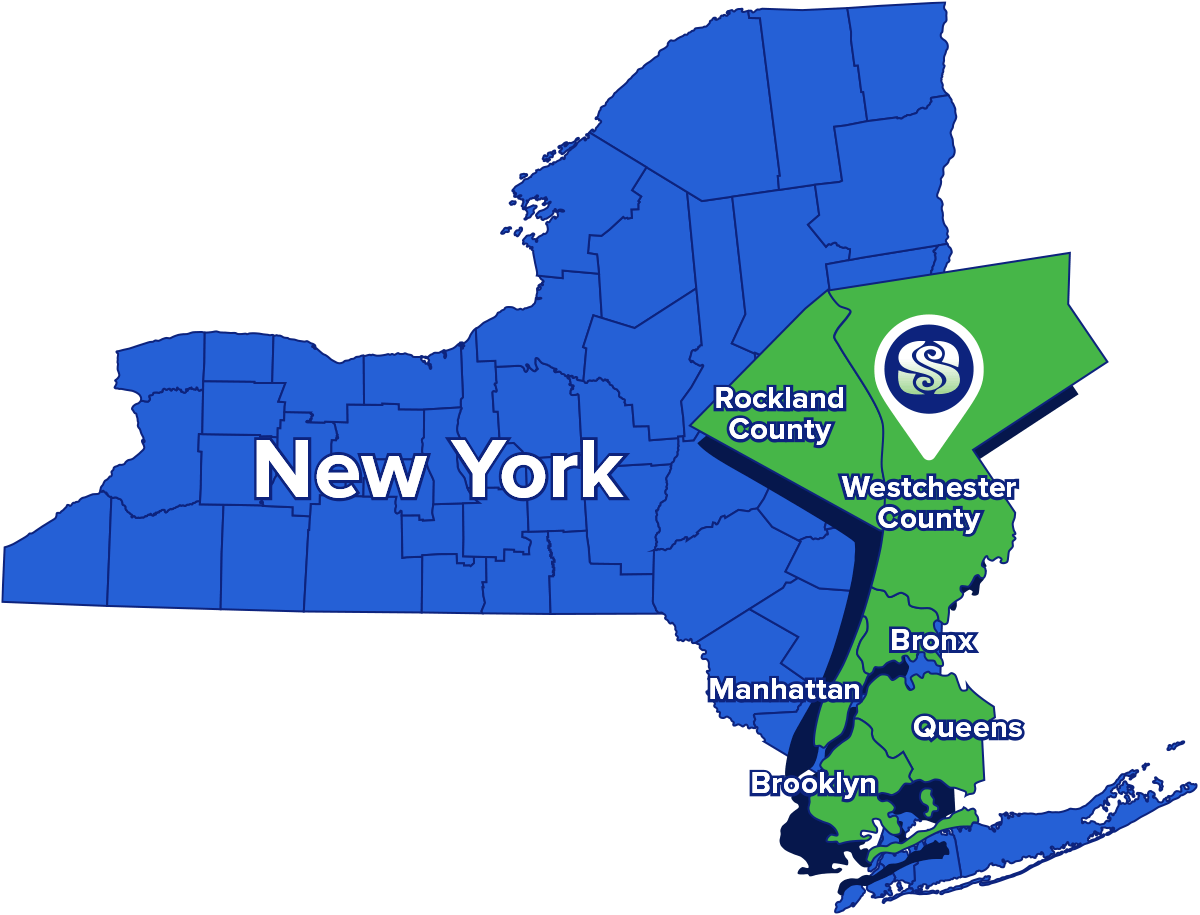 Customized Protection to Keep Your Home Pest-Free
With pest control experience in the New York metro area since 1974, Suburban Pest Control has the experience and local know-how to deal with all of your New Rochelle pest control needs. When you sign up for our highly effective pest control services in New Rochelle, you can expect:
An in-depth inspection carried out by one of our friendly licensed exterminators
A customized treatment plan designed to fit your needs
Quarterly treatments to keep pests from causing problems in the future
Structural repairs and alterations to cut off entry-points and keep pests from entering your home
And more!
Quality Results AND Quality Customer Service 
Our New Rochelle pest control professionals are experts in their line of work to give you the results you deserve, but we know there is more to quality pest control than elimination. That's why we make sure all of our exterminators near you are friendly and willing to help you in any way that they can! 
No matter the size of your pest problems, our staff is more than capable of taking care of it, and all with a smile on their face! Our pest control services in New Rochelle include management of all your general household pests, including: 
Roaches
Stink Bugs
Ants
Rodents
Wasps
And more!
Get Started With a Free Quote!
Pest control shouldn't be expensive— period. That's why, on all our New Rochelle pest control, we offer free quotes so you can begin protecting your home— and your wallet— from pests. 
Bed Bug Treatments in New Rochelle
When you wake up with a collection of red bumps on your body, it's like you're still in a nightmare. The sinking realization sets in— you have bed bugs. Despite how common these infestations are, bed bugs are challenging to eliminate, a characteristic that contributes to the anxiety surrounding their presence. Our bed bug treatment in New Rochelle is designed to deal with these tiny pests. With our combination treatments, we'll have you bed bug-free in no time! 
Family-Safe Solutions with Results that Last
We have crafted a strategy for our bed bug control that will rid you of bed bugs, without harming your family or property.
Our treatment includes:
Use of a HEPA vacuum on mattresses, box springs, cracks, and crevices to remove 99.7% of pests, including cast skins, adults, nymphs, and loose eggs.
Treatment of carpet edges, mattresses, and box springs with high-temperature vapor, destroying eggs that would continue the infestation, performed by one of our local bed bug exterminators.
Application of top-of-the-line desiccants and residual sprays in affected areas.
Installation of a bed bug-resistant cover, at an additional charge, to prevent future infestation.
Dealing with bed bugs can be stressful, but at Suburban Pest Control, we have been dealing with problems just like yours since 1974. Our bed bug treatments are performed by top-notch exterminators who are capable of tackling your problem— no matter the size— and making you feel safe in your home again.
Rodent Control in New Rochelle
Dealing with mice and rats is a hassle; the scratching, chewing, and threat of disease is something no homeowner should have to deal with. Here at Suburban Pest Control, we have been dealing with pests since 1974. That experience ensures our exterminators in New Rochelle will have your rodent issue solved in no time.
Protect Your Home and Family
Rodents are not only a nuisance but can pose a serious threat to you and your loved ones, as well as your home itself. They can spread viruses, like Salmonellosis, Hantavirus, and Rickettsialpox, and expose you to fleas and other parasites. They can also cause damage to your house, like chewing wires, which puts you at risk for a fire. Our rodent control in New Rochelle can eliminate current infestations and protect you from future ones, alleviating the anxiety and danger caused by rodents.
Our trained exterminators will provide you with:
A thorough inspection to determine the extent of the infestation. 
Bait and mechanical traps to effectively eliminate the rodents.
A follow-up visit one week later and additional follow-ups depending on the severity of the infestation.
A rodent exclusion process to go beyond elimination and protect your home for the future.
Our exterminators in New Rochelle strive to provide you with the best results. If you're not 100% satisfied with the service performed, we will gladly return and make it right. Don't share your space with rodents any longer, call us today!
Termite Treatment in New Rochelle
Termites hide in the foundation of your home, making them hard to spot if you don't know what you're looking for. The damages they cause can leave you needing extensive repairs that come with a hefty bill. When you choose our preventative termite treatments in New Rochelle, however, worrying about termites is a thing of the past.
Safeguard Your Home, Protect Your Family
Termite damage can make you worry about the safety of your house, and the safety of your loved ones inside it. Our expert termite exterminators in New Rochelle are trained to detect and eliminate infestations, ensuring your home is safe. Our team will:
Perform a detailed inspection of your home, crawl space, and other areas termites could potentially be. 
Create a customized treatment plan based on the status of your home.
Protect your home from future infestations with preventative treatments.
Fast and Reliable Solutions
Termite control services are what we specialize in, and we bring our extensive knowledge right to your door. If you're currently suffering from an infestation and want an aggressive treatment, we offer Sentricon® Above Ground Bait Stations, which tempt the termites away from your house and eliminates the colony— queen and all. Don't wait for damage to become apparent, give us a call and learn more about our termite extermination in New Rochelle.
Ant Control in New Rochelle
We've been providing ant control in New Rochelle for over four decades, showing your neighbors the most effective way to kill ants. That means we know what works and what doesn't, allowing us to give you proven, reliable relief when you need it the most. With our ant exterminators on your side, you don't have to worry about ants contaminating your food or invading your personal space any longer. Our ant exterminators in New Rochelle will:
Perform a comprehensive inspection of your home to identify what species of ants are present and how they're getting inside.
Use our findings to create a customized ant treatment plan.
Combine non-repellent products and bait to effectively eliminate ants.
Keep you in the loop throughout the ant treatment, addressing your questions and concerns.
Family-Friendly Ant Control For Your Home
If ants have taken over your home and DIY methods aren't cutting it, you don't have to give up just yet. Our ant control in New Rochelle is the solution you've been searching for to get rid of ants in your house. We use safe, effective products to swiftly eliminate ants from your home, giving you long-term relief from those annoying pests. With Suburban Pest Control, you'll be protected from a variety of ants, including:
Pavement ants
Carpenter ants
Odorous house ants
Pharaoh ants
100% Satisfaction Guaranteed
If you find ants in your home after our ant control treatment we will return to retreat free of charge. We are not satisfied until you are. We work hard to get rid of ants and keep them out of your home. Contact one of our ant exterminators and learn more about our ant control treatment options.
TAP Insulation in New Rochelle
Few products can accomplish more for your home than TAP insulation. From regulating energy bills and to critical pest exclusion, properly installed TAP insulation in New Rochelle is an indispensable tool if you want to maintain a clean, comfortable, sustainable, and affordable home. Here at Suburban Pest Control, we've been in business since 1974 and bring hands-on experience with us every time we set foot in your home. That among so many other reasons is why you can count on us! Schedule your TAP installation today and you can expect:
A free inspection of your attic. 
Reduced energy bills.
A pest-resistant barrier that will help prevent future infestations. 
A layer of fire-resistant material in vulnerable areas of your home.
Protection from mold and mildew.
An eco-friendly product made from recycled materials.
Guaranteed satisfaction.
Feel at Ease in Your Pest-Free Home
As a pest control company in Yonkers, we stand behind our technicians and the work they do, so we are proud to offer a 100% Satisfaction Guarantee. If you are unhappy with your service, let us know! Our job isn't over until you are completely satisfied with the work we've done, so we will send one of our New Rochelle pest pros to address your concerns and make sure we get the job done right free of charge! 
Give us a call today to start your journey to a pest-free future!
Our Guarantee
Should pests persist in between scheduled treatments, simply let us know and we'll re-service your home for no additional cost to you. That's our guarantee to you!
Image